Welcome to the Cocoa Journey...
Due to personal life changes this is the final chapter for JK Fine Chocolates and the shop will be closing in March 2021 or before, depending on stock. It has been a wonderful chocolate journey since 2014, and we couldn't of done it without all our amazing customers. Thank you!

Jamie
Where did it all begin?

'In 2014 I travelled to Costa Rica, a country mostly known for its coffee bean plantations and also produces distinct aromatic cocoa. The country has an ideal climate throughout the year to grow many different types and flavours of cocoa beans. Cocoa trees need lots of heat and sun all year round (although shade is needed during its early life). The country has remarkable and beautiful landscapes, it flourishes in greenery and extraordinary wildlife'.
'My chocolate adventure in Costa Rica lead me into the mountains of Puriscal where i discovered a small native village called Mastatal. With a population of just 150 here my amazing journey began working along side the family who ran the
La Iguana chocolate
farm. The family have been growing, harvesting and making chocolate for three generations and still continue to produce beautifully aromatic and flavourful cocoa beans. Due to limited accessibility,
La Iguana Chocolate's
cocoa beans are considered extremely rare which is why Jamie is honoured to be able to still use the cocoa in a selections of his truffles.​ Like JK Fine Chocolates, the family use traditional techniques in their cocoa production, no heavy machinery or air-conditioned factory, this is a hard grafting chocolate farm who peel every cocoa bean by hand.'  - Jamie Kemp (Founder)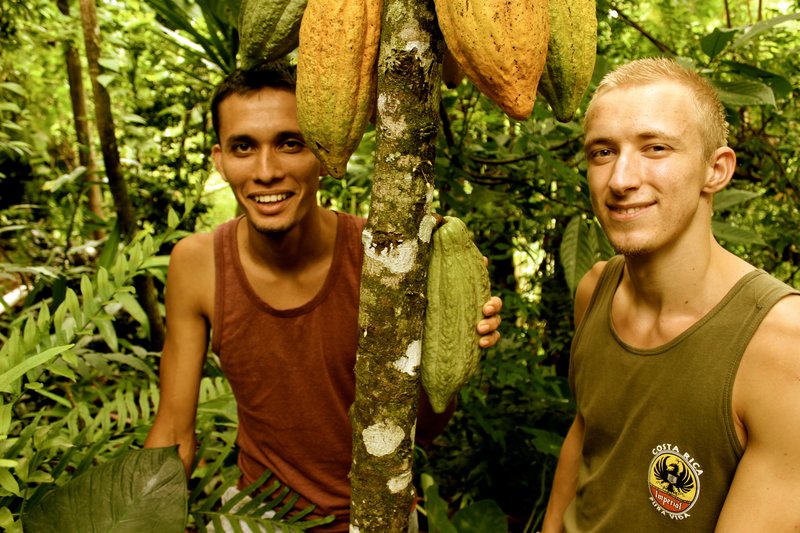 - Jorge, Farmer & Co-Owner; La Iguana Chocolate with Jamie, Chocolatier & Founder; JK Fine Chocolates

Where did it take me next?
'In 2017 I wanted to continue the cocoa journey and Madagascar was the perfect destination. I have been working closely with an well respected and innovative chocolate company in Madagascar who are at the forefront of producing fine cacao and chocolate whilst working ethically and responsibly via Raise Trade.

This trip to Madagascar turned into something extraordinary as we ventured to the east coast of the island to explore the birth place of cacao in Madagascar!

WHAT WE OFFER?

Luxurious handcrafted chocolates and truffles using single origin coverture chocolate and single origin cocoa beans. After Jamie's stay at La Iguana Chocolate, Costa Rica in 2014 he was inspired by the family's passionate hands on approach to fine organic cocoa production using traditional methods when growing, harvesting, fermenting, drying, roasting and finally peeling their cacao. Now Jamie continues the passion for fine flavourful chocolate in all his creations which are carefully and extensively developed, from the sourcing of ingredients to the dazzling finishing touches.


WHY SINGLE ESTATE AND SINGLE ORIGIN COCOA?
Single origin chocolate and single estate beans is so important and can have many more characteristics and complexities in flavour than other chocolate. This is because each country's soil, surrounding plants, animals and climate (heat, rain and wind) will change the end result of the cocoa bean's flavour and why you will find Costa Rican chocolate is deep, earthy and smoky in flavour, to Madagascar where the beans are pungently tropical and fruity in taste. HOWEVER, even within that origin there are multiple of different flavours to be found depending on the many environmental factors. So this is why single estate cocoa beans are even more wonderful to work with as well!
Cacao (chocolate) is a fruit that is grown mostly in consistently hot climates all year round and was originally discovered by the Aztecs. It was also used as legal tender in some parts of the world. You can find around 40-60 cocoa beans inside each cocoa pod that are individually covered in an edible sweet white membrane/pulp before going through the multiple different processes to then finally become chocolate as we know and love in the UK.